you have questions? Hoopla has answers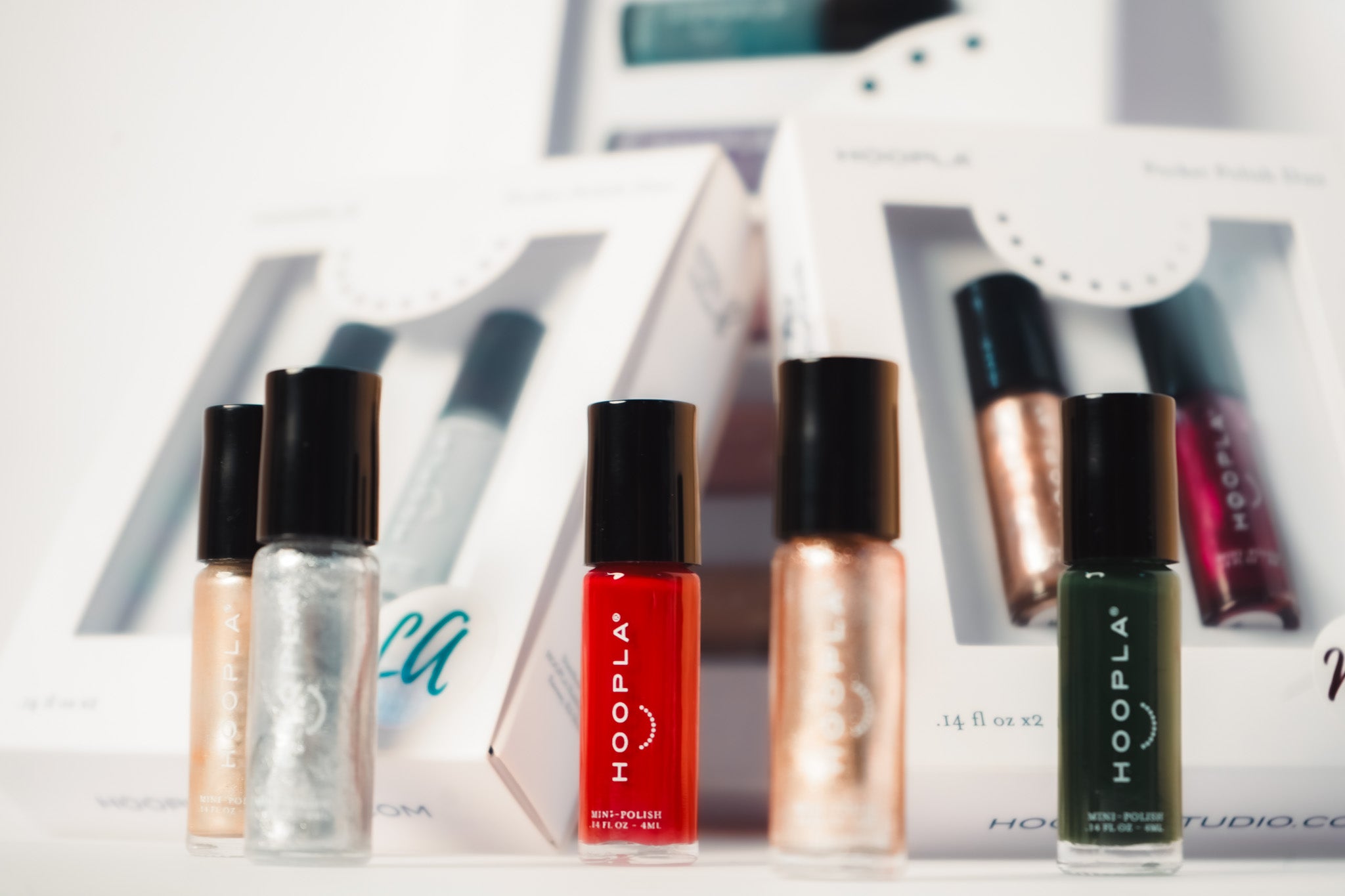 Product FAQ's
Yes, we are certified vegan and cruelty-free, meaning we never test on animals.
HOOPLA® products are proudly made in the USA for the best quality control.
Yes.  HOOPLA® products are child-friendly but should not be consumed.
Base coats such as HOOPLA Before, HOOPLA Heal, or HOOPLA Strength provide the best surface for the polish to adhere to, which increases the longevity of your manicure/pedicure.  Base coats also prevent staining of the nails from polish.
Yes.  We recommend using a base coat such as HOOPLA Before, HOOPLA Heal or HOOPLA Strength to provide the best base layer for your polish to adhere.  Once you've applied your choice of polish color, it is best to use either HOOPLA After or HOOPLA Matte to set your manicure/pedicure for ultimate longevity.
HOOPLA After is a fast-drying, gel-hybrid top coat that dries up to three coats of polish to a high gloss shine in less than five minutes.  It also contains Etocrylene - a UV inhibitor that prevents nail discoloration. 
Make sure your nails are clean and free of oils and residues before polishing.  Apply thin coats of base, polish, and top.  Allow each coat to set before applying the next product.
HOOPLA Heal is a 10-Free, powerful healing treatment containing essential oils that soothe damaged nails and nail beds.  HEAL helps prevent nails from peeling as they heal and can be used alone or as a base coat under polish.  
HOOPLA Strength is a 10-free treatment that stimulates the growth and reproduction of nail cells to cure weak, thin, or splitting nails.  Strength can be used alone or as a base coat under polish.
HOOPLA's Avocado Cuticle Oil hydrates and moisturizes your nail beds and hands to keep them looking young and feeling soft.  For best results, apply 1 or 2 drops to your hands and nails at bedtime, then massage into the cuticles.  Leave it on overnight for full efficacy and absorption.
HOOPLA® products can be purchased in studio to take with you, or you can purchase them online to be packaged and shipped directly to the recipient. 
Studio FAQ's
We recommend booking an appointment in advance to make sure you secure the date/time of your preference.  We also accept walk-ins on a first-come basis.
To book a HOOPLA® service, you can call the studio at (913) 777-5959 or book online here
We will be so very sorry if you can't join us for your HOOPLA appointment. However, there are others that would love your spot! Please cancel FIVE (5) HOURS in advance to avoid being charged 50% of your appointment value.  Thanks so much for understanding.
2708 West 53rd Street, Fairway, KS 66205
HOOPLA® offers a wide selection of services, including nails, esthetics, spray tans, and more!  Please refer to the service menu for a complete listing HERE.
HOOPLA® doesn't offer acrylic or dip nail services because the products contain harmful chemicals which aren't good for your nails.  Likewise, upon removal of the products used for these services, the dust particles are harmful to breathe. 
HOOPLA® hosts bachelorette, wedding, corporate, birthday and book clubs – or just a big group of friends - for private parties!  Please contact us for details: CONTACT US
Please let HOOPLA know immediately if you're not happy with your experience. We want to create the best experience possible, and if you do not have it, we want to know!   Contact HOOPLA's General Manager HERE or The Kansas Board of Cosmetology located at 714 SW Jackson, Suite 100, Topeka, KS 66603, 785.296.3155.